For the second consecutive year, Ferris is partnering with Ty Dillon, who is entering his sixth full-time season in NASCAR's premier series. It also marks the 10-year anniversary of the brand's first sponsorship of the North Carolina veteran driver. Ferris originally partnered with Dillon in the dirt late model series in 2013.

Dillon will pilot the No. 77 Spire Motorsports Chevrolet Camaro ZL1 in the Cup Series and the iconic No. 3 Richard Childress Racing Chevrolet Camaro SS in the Xfinity Series.
---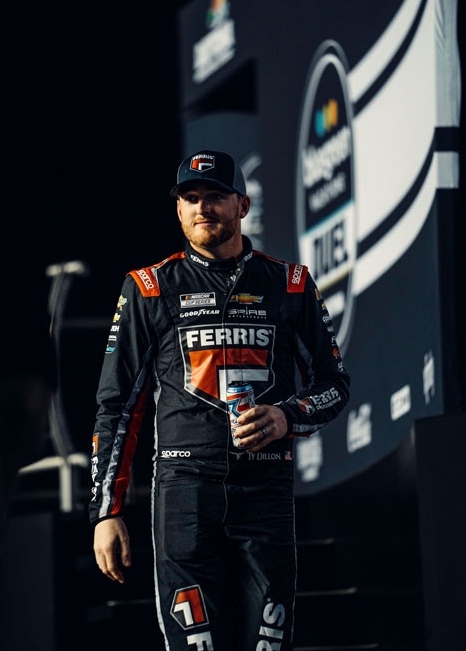 Ferris Primary Race Schedule
Ferris will be featured as the main sponsor at the below races in the 2023 NASCAR Cup & Xfinity Series season. Ferris will also be an associate sponsor of Dillon's full-time car for the balance of the Cup Series.
Primary Race Schedule:

Thursday, February 16: Daytona International Speedway (Daytona Beach, Florida)
Sunday, February 19: Daytona International Speedway (Daytona Beach, Florida)
Sunday, March 19: Atlanta Motor Speedway (Hampton, Georgia)
Sunday, March 26: Circuit of the Americas (Austin, Texas)
Sunday, April 9: Bristol Motor Speedway Dirt (Bristol, Tennessee)
Sunday, May 7: Kansas Speedway (Kansas City, Kansas)
Saturday, May 13 (Xfinity): Darlington Raceway (Darlington, South Carolina)
Sunday, May 28: Charlotte Motor Speedway (Concord, North Carolina)
Sunday, July 16: New Hampshire Motor Speedway (Loudon, New Hampshire)
Saturday, July 22 (Xfinity): Pocono Raceway (Long Pond, Pennsylvania)
Sunday, August 6: Michigan International Speedway (Brooklyn, Michigan)
Sunday, August 20: Watkins Glen International (Watkins Glen, New York)
Sunday, October 1: Talladega Superspeedway (Talladega, Alabama)
Sunday, October 29: Martinsville Speedway (Martinsville, Virginia)
Shop Ferris/RCR Apparel

Gear up for the 2023 season with Ty Dillon + Ferris merchandise. Visit the Spire Motorsports online shop to order your race gear today, including Ferris t-shirts. Also, be sure to pre-order your 2023 Ferris NASCAR diecast model.

Press Release

Ferris Mowers will be sponsoring Ty Dillon in a co-partnership with Spire Motorsports and Richard Childress Racing. The links between Ferris and racing run deep. The company's patented suspension system is inspired by stock-car racing. That suspension system is unlike any other in the outdoor power equipment industry and is prized by lawn contractors for its comfort, traction and mowing efficiency. 

"Ty is a great ambassador for the Ferris brand, and we enjoy a great relationship with him. We're excited to see what he can do this season with Spire Motorsports and Richard Childress Racing." - Christin Wam, senior director of marketing, Briggs & Stratton