Which Type of Commercial Mower Should You Buy? Walk Behind vs. Zero Turn
---
---
So, you've made the important decision to purchase a commercial lawn mower. Now you need to decide whether to invest in one of the many advanced zero turn mowers on the market or if a walk behind mower would be the smarter choice for your needs.
The answer is more obvious for some than for others. Keep an open mind as we look at the advantages of both types of commercial mowers. You may find you were right all along, but you might also find there's more to this decision than you initially thought.
Walk Behind Mower Advantages: Nimble, compact and good exercise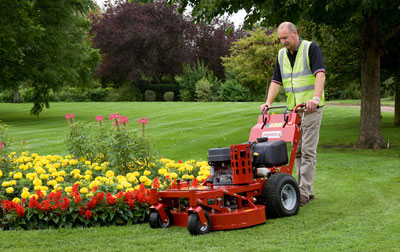 One of the most important considerations when choosing the best mower is the size of the job itself. Small and moderate sized lawns may be better candidates for a walk behind mower. The general rule of thumb is, if you can complete the job in under 40 minutes, a self-propelled walk behind is every bit as efficient as a zero turn and often more so.
This is especially true if you will be using your mower for commercial work. On short runs, your lawn care crew can't always take advantage of the higher speeds associated with riding mowers. And even if they can, it's much easier to charge what the job is worth if your customer sees your crew earned it through actual work!
You will appreciate the walk behind's agility when mowing around tight areas. Because these mowers travel at lower speeds than zero turns, they are easier to control. If you have a lot of slope work, you'll appreciate the increased stability. And because this type of lawn mower weighs considerably less than a zero turn riding mower, it is gentler on turf.
Professionals will appreciate the smaller footprint. You can fit more walk behinds on a trailer and in a storage shed. This may be especially important if quantity of lawn machines is more important than the benefits of one type over the other. And if you're budget conscious, the walk behind is less expensive while capable of providing similar cutting widths.
And if you need one more reason to convince you a walk behind is the best mower for you, consider the health benefits. While it requires less labor than the good old push mower of yesteryear, a self-propelled model still keeps your body in motion. Depending on how much time you put behind the handles, cutting the grass is an excellent aerobic activity.
Zero Turn Mowers: Fast, muscular and productive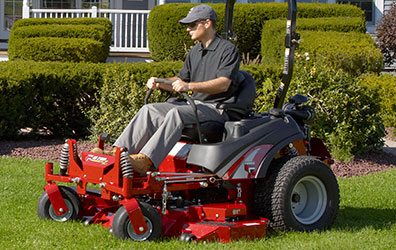 As stated before, job size is one of the most important factors in choosing the right lawn equipment. If you find yourself on the lawn for 45 minutes or more, you will surely see the benefits of owning a zero turn mower.
One of the obvious reasons for this is the faster ground speed capability. Riding mowers can travel up to twice as fast as their walk behind cousins, covering more ground quicker. This fact becomes even more significant for commercial landscapers or any lawn care professional who earns a living manicuring lawns.
Speaking of professionals and contractors, a commercial mid-mount mower is especially convenient for managing larger, combined areas – such as a housing development or office park, where you must transport your mower from property to property.
Need to tow a trailer? The configuration and power of a zero turn riding mower makes it an enthusiastic workhorse, too. Just add a trailer hitch plus a trailer to effortlessly move grass, dirt, plants, small trees and many other heavy loads a lawn contractor needs to haul.
Lastly, where a walk behind gives the operator the benefits of exercise, that stress on the body can just as easily become fatigue on longer runs. This is especially true in hot weather.  Your crew members won't need to take those frequent water breaks on a Ferris® zero turn because they'll be cruising in comfort thanks to our exclusive front and rear suspension system, sipping occasionally from the water bottle nestled in the cup holder at their side.
Now that you better understand the advantages of both commercial mower platforms, you're better equipped to determine what type of lawn mower you should buy. And if you're still on the fence, your Ferris authorized dealer can answer any questions you have.